The Ultimate Guide to Denim Trends 2023/24
•
Posted on October 30 2023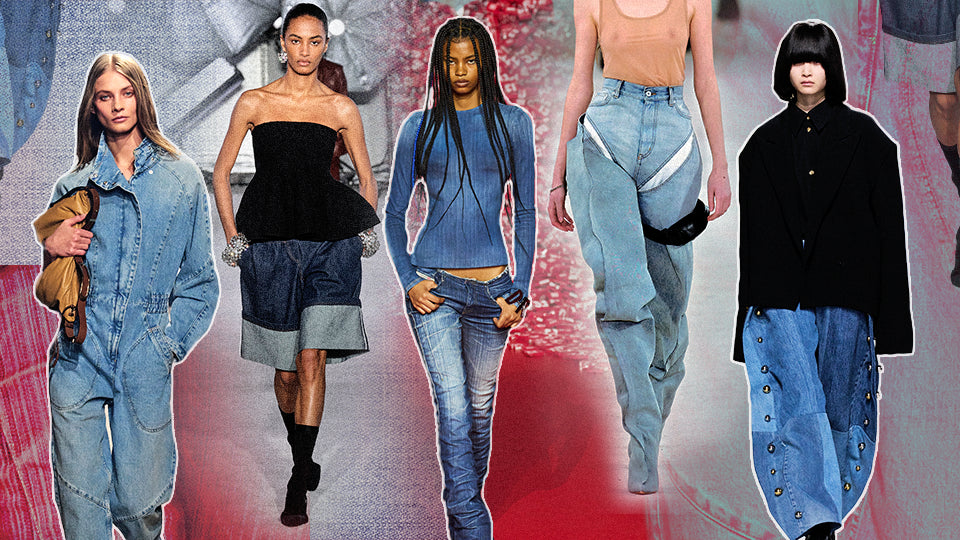 Get ready to revamp your wardrobe with the latest denim trends for fall 2023. In this style guide, we'll explore five standout denim trends that are taking the fashion world by storm. From Y2K-inspired denim skirts to the return of low-rise jeans, we've got the inside scoop on what's in and how to wear it. Whether you're a fashion enthusiast or just looking to update your closet, these trends offer something for everyone. Let's dive into the world of denim and elevate your fall fashion game! 
Y2K Skirts: Say hello to the return of the early 2000s denim skirt, now in midi and maxi lengths. It's all about that nostalgic vibe, from wraparound sunglasses and baby tees to a chic turtleneck and ballerina flats.
Considering the Shoe: The latest "It" shoes for 2023 are making a statement, and the go-to denim styles are slightly cropped jeans in straight and kick-flare cuts. They're the perfect canvas to showcase those fabulous fall footwear choices.
Lower Low-Rise Jeans: The comeback of low-rise jeans continues, and Diesel is leading the way with classic and modern styles, including sheer panels, integrated belts, and more. You'll find various options from experimentally distressed to laid-back looks.
The Trench Coat (Denim Version): Classic trench coats meet denim, creating a trend that adds a relaxed and easy-to-style twist to outerwear. It's all about that timeless silhouette in a new fabric.
Wide Wide-Leg Shapes: Paris Fashion Week brought ultra-wide-leg jeans with puddle hems into the spotlight. They're roomy and comfortable, offering a touch of drama to your outfit. Pair them with a more understated top for the perfect look.
Ready to embrace these denim trends for a stylish fall?