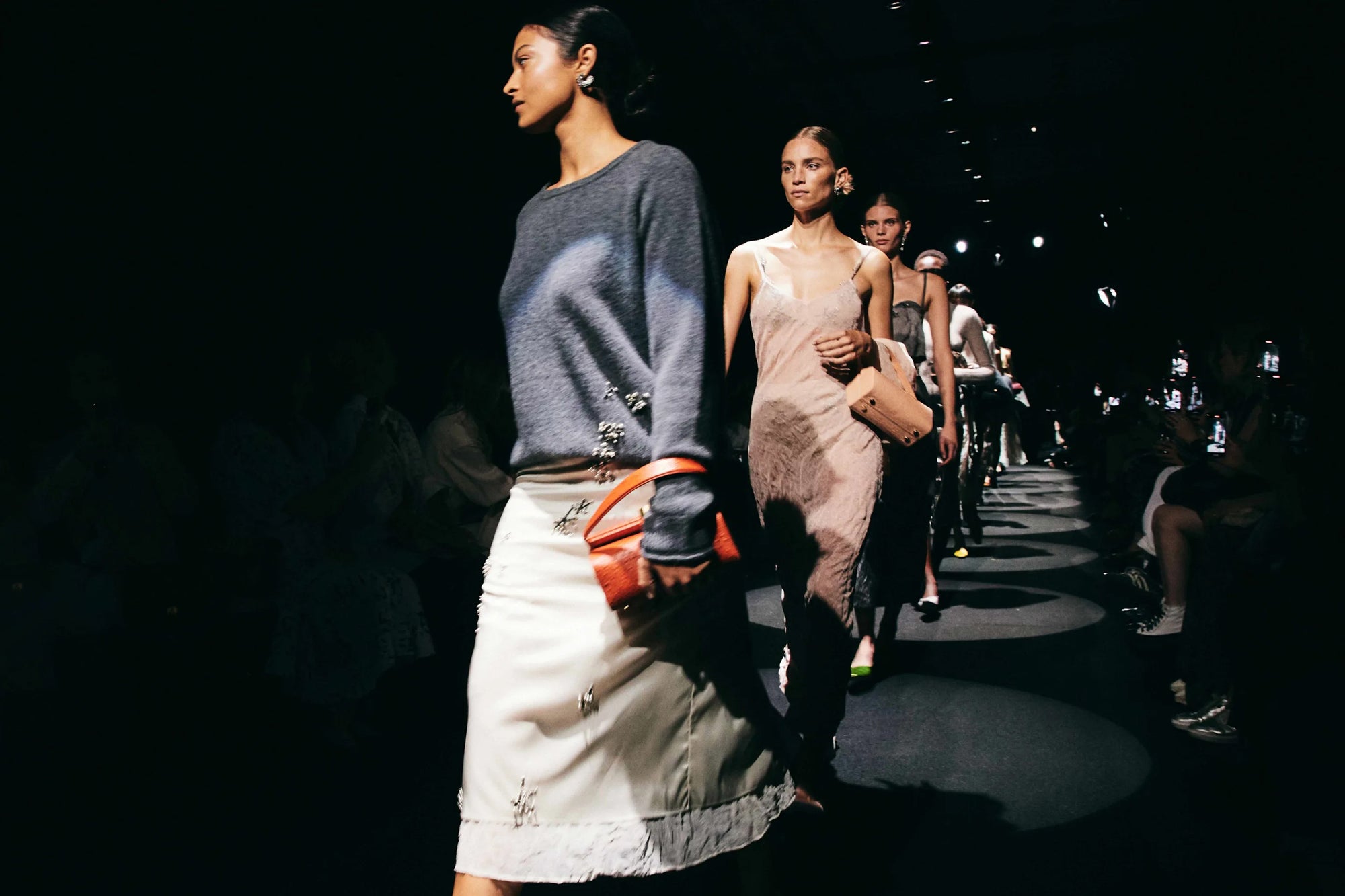 For fashion enthusiasts, New York Fashion Week isn't just a platform to showcase the latest designer collections; it's a playground for seasonal trends and an invaluable source of style inspiration that often sets the tone for fashion in the years to come. In this year's rendition, we witnessed not only a high turnout of front-row icons but also a captivating display of creativity from labels like Helmut Lang, Coach, and Collina Strada, offering a plethora of sartorial inspiration to carry us through the upcoming fall and winter seasons. Let's delve into the standout moments and trends that graced the runways of New York Fashion Week (NYFW) for Spring-Summer 2024.
MICRO BOTTOMS
Over the last year, celebrities including Bella Hadid, Kylie Jenner, Hailey Bieber and others have been seen wearing barely-there bottoms, close to (if not) underwear. Now, the "no pants trend" has been elevated from the street to the runway with designers LaQuan Smith, Sergio Hudson, Michael Kors, Luar, Staud, Ulla Johnson and many more debuting fashion-forward micro bottoms in their spring-summer 2024 collections.
The Enchanting Drop Waist Trend
One of the most notable silhouettes this year was the drop waist style, where the waistline gracefully sits at or below the hips, departing from the conventional natural waist placement. Designers such as Rachel Comey and Collina Strada achieved this effect through elegant draping, while Christian Siriano made a dramatic statement with a breathtaking drop-waist ballgown that stole the spotlight.
The Timeless Revival of Corsets
Corsetry made a remarkable return, but this time, designers sought inspiration from vintage aesthetics rather than modern mesh-panel designs often associated with sultry summer looks and music festivals. The under-bust neckline and longline silhouettes reminiscent of early 19th-century styles graced the runway at Palomo Spain. Dion Lee's nude-toned corsets with visible boning evoked the elegance of 1920s girdles. At Collina Strada, the hip-fin structure and dipped waist transported us back to the Edwardian era.
Making a Statement with Belts
The fashion world echoed with the resounding influence of statement belts. From the waist-cinching basque belts seen at Falguni Shane Peacock to the classic leather pieces showcased by Michael Kors and Sergio Hudson, bold and eye-catching belts took center stage on the runway, accentuating the waist and adding an extra layer of personality to the ensembles.
A Fascination with Fringe
Movement and dynamic energy were recurring themes throughout the NYFW collections, exemplified by a diverse range of fringe-forward pieces that gracefully swayed down the runways. PatBo's opulent fringed maxi dress, Y III Chuan Eo's woven fringe minidress, and Ralph Lauren's golden poncho all brought a sense of retro momentum and playfulness to NYFW.
The Radiance of Yellow
While summer and sunshine yellow may seem like an obvious pairing, the abundance of this vibrant shade at this year's NYFW marked it as a trend poised to dominate wardrobes in the upcoming seasons. The color took various forms, from a zesty lemon floor-length dress by Prabal Gur to other delightful interpretations that brightened the runway.
In summary, New York Fashion Week Spring-Summer 2024 dazzled us with its eclectic mix of drop waist dresses, vintage-inspired corsets, statement belts, playful fringe elements, and the radiant allure of yellow. These trends, born from the creative minds of talented designers, are sure to inspire and influence the world of fashion for years to come.