Discover the Top 5 Persistent Trends from Paris Fashion Week SS24
•
Posted on October 09 2023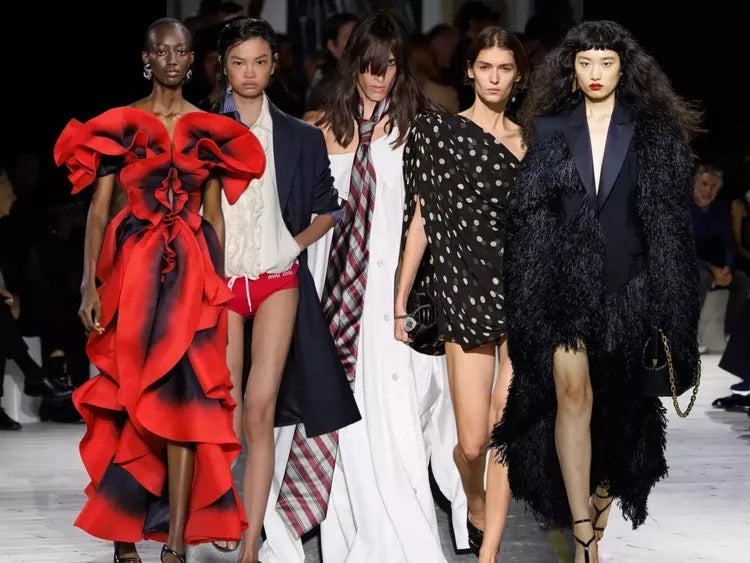 As the curtain falls on another exhilarating fashion month, we're here to unravel the five standout trends that stole the spotlight on the runways during Paris Fashion Week for spring/summer '24.
 A Dash of Whimsy
Designers didn't hold back when it came to injecting a playful spirit into their collections. Officecore fashion was transformed with oversized traditional shirts and blazers, sporty suit and tie illusions, and even a skirt fashioned from the unassuming ballpoint pen. This funhouse take on nine-to-five dressing is a delightful twist best suited for after-hours escapades.
Timeless Polka Dots
Polka dots made an unexpected resurgence this season, embracing their classic charm. No avant-garde interpretations here, just the timeless allure of black and white polka dots adorning modern biker jackets and vintage-inspired sharp-shouldered blazers.
Abstract Floral Fantasy
While London celebrated florals in a literal sense, Parisian designers embarked on a more abstract journey through blooms. They played with graphic repetition and crafted their own fantastical flowers through inventive silhouettes. These designs were like blossoms plucked from a dream.
The Cozy Embrace
Fashion month can be a long and exhausting journey, leaving you yearning for the comfort of your emotional support weighted blanket. Though we can't say for sure if this was the intention, it seems that fashion brands drew inspiration from these cozy, anxiety-soothing blankets. Their collections exude the same warmth and comfort you'd seek from a weighted embrace.
Shoulder Embrace
Designers took a page from bandage dressing (and perhaps even mummies?) by wrapping shoulders over tops and dresses. This innovative trend keeps the arms close to the body, and it was seen on the runways of esteemed fashion houses like Chloé, Rabanne, Rick Owens, and Peter Do.
With Paris Fashion Week '24, we witnessed a fusion of creativity and restraint, offering a refreshing emphasis on pure fashion. The season brought forth a mix of humor, nostalgia, and artistic expression, leaving us eagerly anticipating the trends that will shape the seasons to come.