Get Ready for Fall with Our Favorite Sweater Styles
•
Posted on October 23 2023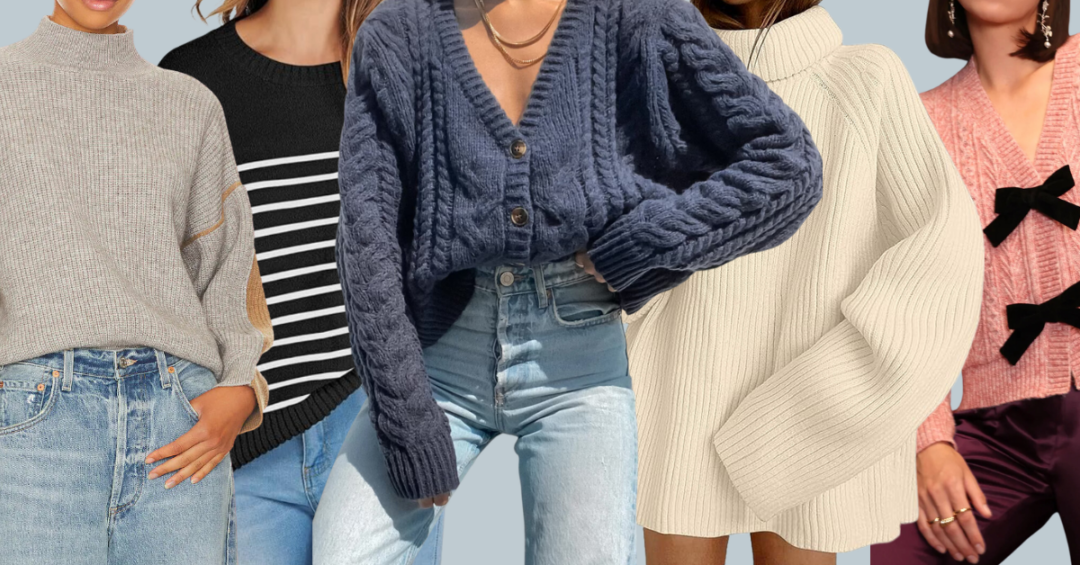 Wondering which sweater styles and colors are making waves this autumn? You'll be pleased to know that some of this season's best sweaters are timeless classics, like your trusty crew-neck pullovers. It's the perfect time to pair them with your trendiest jeans. This fall, sweater trends draw inspiration from nostalgia and pop culture. The "Barbiecore" trend is in full swing, so if you own pink sweaters, now is the time to showcase them. If hot pink isn't your vibe, you can embrace the neutral tones of beige, brown, tan, gray, black, and off-white, all of which are on-trend for Fall 2023. And, if you're feeling adventurous, there's a range of colorful sweater options to consider.
Barbiecore Pink Turtleneck Sweater: Inspired by Margot Robbie's "Barbie" movie outfit, this pink cable-knit turtleneck with a textured diamond pattern is a standout piece. While it's a vintage Versace design, we expect fast fashion retailers to offer similar styles.
Cozy, Oversized Wool Turtleneck Sweater: Stay warm and stylish with an oversized turtleneck sweater. Pair it with a leather trend coat and biker boots for a chic, laid-back look in versatile shades of gray and black.
The Cropped Turtleneck Sweater: For a more fitted and trendy look, opt for a cropped turtleneck. This versatile piece can be paired with various bottoms, from light-wash jeans to dress slacks.
Asymmetrical Button-Up Turtleneck: Stand out with an asymmetrical collar and button details. Leave a few buttons unbuttoned for the latest look or keep them fastened when it's chilly. Team this piece with flared-leg trousers or jeans for a fashionable ensemble.
Stripes, Cutouts, and Fringe: Embrace cutout details further down the arms, avoiding the now-outdated cutout shoulders. Combine these with tassels and fringe for a unique sweater style. Minimalist black accessories will balance the look.
These are just a few of the exciting sweater options for Fall 2023. Stay cozy, stylish, and on-trend this season!