Leather Luxe for Fall/Winter Elegance
•
Posted on November 13 2023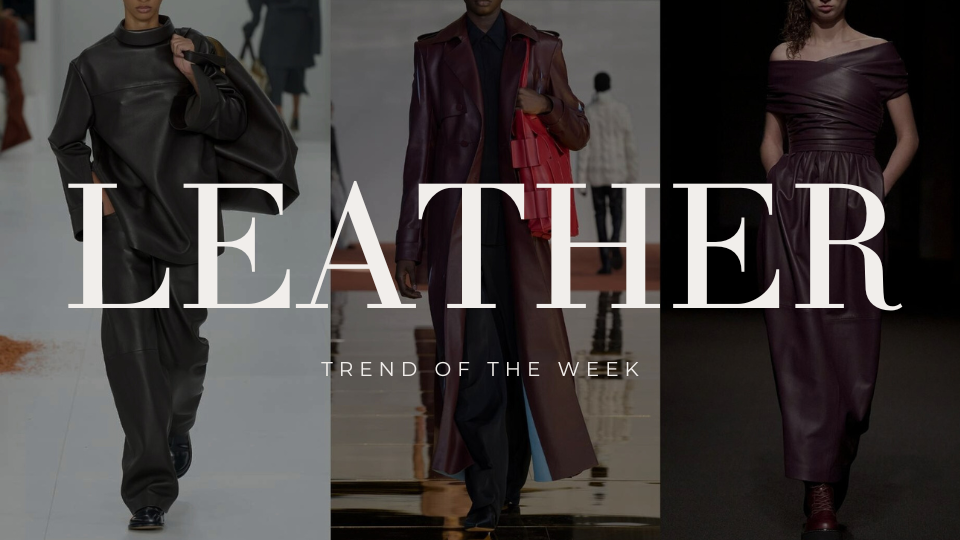 Step into the season with unparalleled style as we unveil the key trend defining FW23 - Leather Luxe. From the sleek sophistication of leather skirts to the cutting-edge allure of jackets, our curated collection embraces day-to-night versatility. Explore the season's must-have pieces, and let the luxurious touch of leather elevate your fall wardrobe. Discover the essence of modern elegance with our expertly crafted leather essentials that seamlessly blend fashion-forward design with timeless appeal. Get ready to make a statement and embrace the chic embrace of "Leather Luxe for Fall/Winter Elegance."
Leather Skirt: Whether you lean towards mini, midi, or maxi lengths, the leather skirt is a must for a fresh and contemporary look.
Leather Coat: For FW23, fashion powerhouses like Versace are reaffirming the leather coat as a must-have for cutting-edge outerwear. Versace's 'Icons' style, adorned with the iconic Medusa-encrusted gold-tone buttons, offers a sleek silhouette that effortlessly layers over dresses or sweaters.
Leather Dress: The leather dress emerges as a trans-seasonal hero, providing both insulation and an instantly polished aesthetic. On cooler days, layer a midi dress over a turtleneck, pairing it with knee-high boots for daytime chic or elegant mules for evening allure. For black-tie affairs, explore an off-the-shoulder dress in a rich grape tone, perfectly complemented by gold heels and chunky jewelry. Alternatively, opt for a square-necked midi dress, versatile enough for pointy courts or ballet flats, and complete the look with a cropped cardigan, depending on the dress code.
Leather Jacket: No fall wardrobe is complete without a stylish leather jacket. While classic biker styles like Isabel Marant's distressed 'Barbara' endure, this season introduces covetable iterations. Yves Salomon seamlessly blends the cool edge of a biker silhouette with the warmth of a brown shearling trim, while Toteme's hero leather draws inspiration from army jackets, boasting a boxy shape and an array of cargo pockets. For a touch of glamour, consider Acne Studios' cropped style, crafted from distressed leather panels arranged in a chic patchwork effect. Embrace the brand's FW23 show styling by draping yours over a ruffled dress.
Elevate your autumn wardrobe with these leather essentials, seamlessly transitioning from day to night with unparalleled style.